ATF05601SC * Armytek Prime C1 Magnet USB * A
8 april 2020
PR796POL * Politie mondkapje
2 november 2020
ATF05501SC * Armytek Wizard Pro * K26 * (gb)
1 op voorraad (kan nabesteld worden)
Beschrijving
ATF05501SC * Armytek Wizard Pro
F05501SC * Armytek Wizard Pro

Compact and light, but at the same time reliable and multifunctional flashlight with Magnet-USB сharger. Headband will increase the possibilities for applying such accessory for everyday tasks and will keep your hands free. With AHM-02 it will be an indispensable assistant in the area of construction. And bicycle mount ABM-01 will reliably keep your flashlight on the handlebar. Multi-flashlight is suitable for using in different fields: auto, fishing, bike, running, etc.
Brightness up to 1800 OTF Lm.
Beam distance up to 130 m.
Up to 200 days of light with one power source.
18650 Li-Ion battery and USB charger are in the set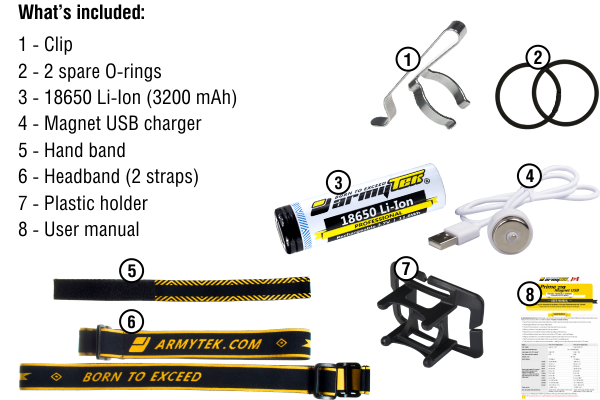 Wizard Pro v3 XHP50 with a magnetic usb charger is the newest version of the high end 18650 headlamp made by Armytek. It sports a Cree XHP50 emitter with heavy emphasis on durability. It's also one of the largest and most powerful 18650 headlamps on the market.
Features and manufacturer's specifications
Battery: 18650
Input voltage: not listed
LED: Cree XHP50, available in warm and "white" (tested)
Waterproof: IP68, 10 meters, 2 hours
Impact resistance: 10 meters
Mode memory: yes
Manufacturer's output specs
Maximum output: 1800 lumens
Other output levels: 900/390/165/30/5.5/1.5/0.15 lumens
Beam distance: 130 m
Light intensity: 4200 candela
Measured dimensions and weight
Length: 110.5 mm
Head width: 29.3 mm
Handle width: 20.5 mm
Tailcap width: 24.5 mm
Weight: 73 g for the light (with pocket clip), 45 g for an 18650 battery, 43 g for the headband